Mon, 07/18/2011 - 16:10
The nucleus option in the human rights diplomacy towards Iran 1/2
THIS SHORT NOTE IS HUMBLY DEDICATED TO NELSON MANDELA AS A GESTURE OF GRATITUDE FOR HIS 67 YEARS OF COURAGEOUS CONTRIBUTION TO OUR COMMON HUMAN STORY.
– Hamaad Djamshidi
____________________
This observation reflects an extremely difficult and seemingly
oxymoronic dilemma
, where any hope for a fruitful human rights diplomacy, even at such senior levels, is highly dependent on a constant observance of a delicate balance between public advocacy and behind the scenes engagements. The very same predicament, the new special human rights rapporteur to Iran,
Dr. Ahmed shaheed
, has found himself in and the very same balance he needs to strike.
Dr. Ahmed Shaheed
UN Special Rapporteur for Human Rights in Iran
Office of the UN High Commissioner for Human Rights
Palais des Nations
CH-1211 Geneva 10
Switzerland
Notwithstanding these efforts, however, the very agitation with which the appointment of Dr Shaheed is being greeted by the regime reveals Islamic Republic's deep anxieties about this new development.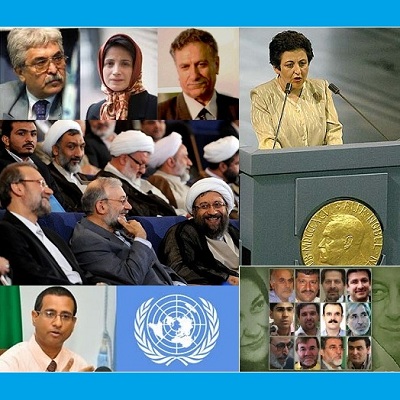 No doubt, all those who are concerned with the future of the regime, the prosperity of the country, the respect for human rights, the practice of democracy etc. have had the opportunity to study and reflect on the fate of
Sudan's Bashir
and
Serbia's Milosevic
in the past few years; if not those of
Gaddafi and his sons
, yet.
This very fact is bound to make the Iranian officials weary and the the human right activists as well as the informed members of the public in the country cognisant of the possibilities which could await them in a not so distant future. A consequential awareness which inevitably will play an informative role on the choices and behaviour of all and any of the above cited players. This very fact leaves all those who had ever advocated for a greater emphasis on the Islamic Republic's human rights record in international dealings with the regime, with a moral and inescapable obligation to work out strategies which would make this new development work.
Tags for all blogs :
Comments or opinions expressed on this blog are those of the individual contributors only, and do not necessarily represent the views of FRANCE 24. The content on this blog is provided on an "as-is" basis. FRANCE 24 is not liable for any damages whatsoever arising out of the content or use of this blog.